Welcome on New Browser Games!
Here you can find the best strategy online browser games that you can play with your PC after a quick registration and without any download.
Click on the red title to read the full
rewiew
or on the image on the right to start play.
Forge of Empires
:
cool real-time strategy browser game in wich you will have to create your settlement from the Stone Age to expand and improve it through the centuries, building typical structures and camps at each epoch. To take over over your opponents you will need to be equipped with good
management skills, economic, military and strategic
.
Imperia Online:
is one of the best strategy browser game, set in a world before the gunpower era, where you have to use all your
administrative skill
to create your own city and make it prosper, expand the fortresses, form alliances and train your army to raid the cities of other players.
Tribal Wars:

real time strategy browser game set in the Middle Age. You will be
the king of a village
that you will need to grow and lead to glory and expansion, facing and destroing the opponents you will find on your way, with the help of alliances with other players. Control powerfull Paladins to defend your cityes and with the Nobles conquer your enemy's ones.
Travian:
the most played strategy browser game on the web, con
tens of millions of players around the world who have already accepted the challenge of this wonderful game
. Travian you play as a Gaul, Roman or Teuton and face many adventures to become the greatest strategists and climb the rankings.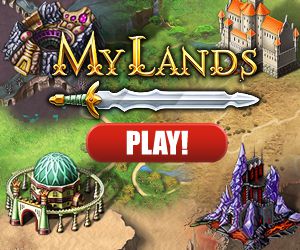 MyLands:
one of the best real-time strategy browser game available for free online.
You can build your kingdom
choosing among four races, each with their own exclusive buildings and their units to be deployed in battle. On MyLands you will have to develop more than forty different technologies to be able to challenge the most powerful enemies and get the victory.
Ikariam:
is a very funny strategy browser game set in the 1400 BC
ancient Greece
, where you will have to manage a small city located in one of the many islands that characterize the map of Ikariam. You'll have to completely manage from the standpoint of economic, military and especially commercial, which is indispensable in order to expand your empire.
OGame
:
is the ultimate strategy game. In fact for many years OGame is regarded as one of the best browser game.
In this game you have to manage your own planet,
build factories, power plants and laboratories
that will allow you to build your fleet, which will be your main source of resources for the improvement of your facilities.