Here is a list of the best strategy online games of 2013 for free!
For a
full review
click on the red title of the selected game, and to enter immediately on the
registration page
click on the banner corresponding to the description.
TRAVIAN:
it is the best strategy online game, where you can turn yourself into a Gaul, a Roman or a Teuton. You will face many adventures and you can send your spies to decide if start a raid to plunder your enemy, if exterminate all the inhabitants, or if conquer the whole territory. You will need to become the greatest strategist of the web!
IMPERIA ONLINE:
it is one of the most popular strategy browser game where you have to use all your administrative and organizational skills to create a medieval empire and make it thrive. To do this you will need to expand the fortresses, collect and accumulate resources, alliances with other players or train your army to raid their countries.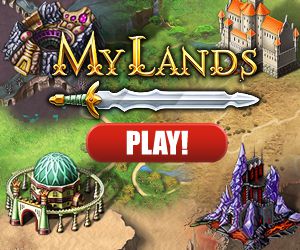 MyLANDS:
it is a real time strategy game in a fantasy settings, where technologies play a very important role: in fact, if you do not will develop them properly, it will be very easy for your enemies get the better of you. You can build your kingdom choosing among four races, each with their own exclusive buildings and their units to be deployed in battle.
IKARIAM:
is a multiplayer strategy browser game set in ancient Greece, where you must build a city, train an army, collect resources and climb the charts. You will be the chief of a city located in one of the many small islands, which you have to manage entirely from the economic, military and especially commercial point of view.
TRIBAL WARS:
real time strategy browser game set in the Middle Age. You will be the king of a village that you will need to grow and lead to glory and expansion, facing and destroing the opponents you will find on your way, with the help of alliances with other players. Control powerfull Paladins to defend your cityes and with the Nobles conquer your enemy's ones.
HAVE FUN WITH THE BEST STRATEGY ONLINE GAMES 2013 FOR FREE!