Have you ever dreamed to be a famous entrepreneur, or a director of a newspaper, or even the president of your state?
Now, with eRepublik, all this can come true, and it will be easy and fun to conquer the peaks of high society.
CLICK
HERE
TO PLAY NOW
On the browser game eRepulik your adventure will begin by choosing your nationality. Done this,
you will need to find a job right away
, whatever should be, so you can improve your social standing. In fact, gaining experience points, you can become a journalist or perhaps a politician, until you get to assume the role of president of the state.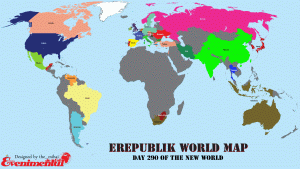 Of course you will have a working wage, low at the beginning but certainly it will tend to increase, and with that money you can buy food and objects
. However, in this fun social game will be very important the relationships with the other players, because to get to the top of the company you'll need their votes.
In conclusion, I can tell you that eRepublik is a cute and simple game if you like to remain anonymous, but very exciting if
you will be part of the political, military or social
. So you have just to start your adventure and meet all the other people who are already in the game and you assert.
HAVE FUN WITH THE BROWSER GAME EREPUBLIK!